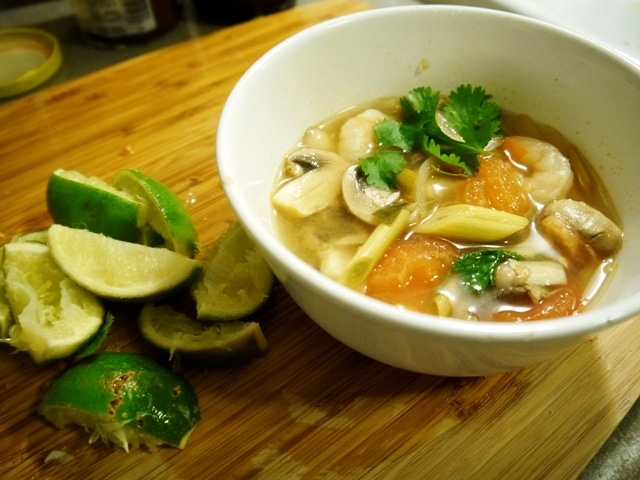 My Thai Hubby's grandma put two silver baht coins in his small caramel colored hand before he walked out the door.
He held them tight as he ambled down the dusty path with huge, yellow-green banana leaves occasionally brushing his skinny legs. Sweat beaded on his brow as he wished yet again that he lived somewhere cold.
The smell of fresh Thai herbs filled up his lungs the closer he got to the bustling marketplace.
He heard women loudly whacking chicken parts with massive knives as flies buzzed nearby. An elderly gentleman was tenderly putting mini bananas wrapped in coconut rice and dark green banana leaves on a hot charcoal grill. A fruit vendor nearby carved the prickly eyes off a fresh pineapple while sticky juice lazily slipped down his strong arm.
The smells and sights were so tantalizing, but he only had two bahts. And his grandma had sent him on a mission: to get lemongrass, galangal and kaffir lime leaves.
He went to the amiable herb seller who always liked to ask how his grandma was doing, and took one of the many bundles already perfectly proportioned with each herb and ready to be thrown into tom yum.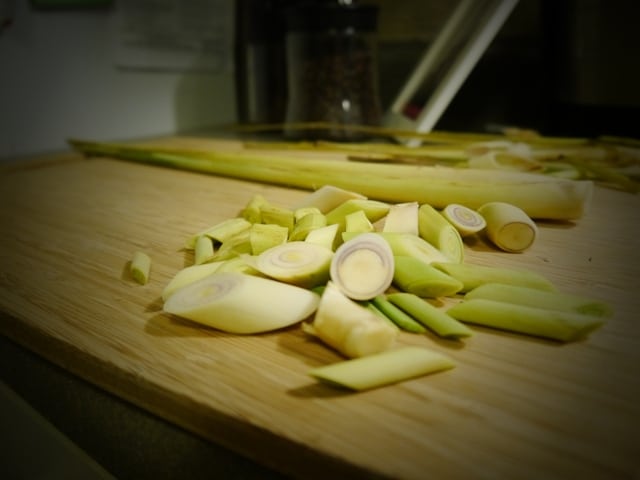 He handed over his sweaty two bahts, and meandered home, now holding the prized goods in his hand, his tongue already tasting the spicy, sour, soothing soup he would savor in a few hours.
How I wish I could just walk down the road, pay seven cents for my fresh Thai herbs and start cooking my tom yum.
But instead I have to drive 1.5 hours to the closest Asian market, pick through scraggly lemongrass, find the chunks of galangal wrapped up with plastic wrap on white styrofoam, and the clear packages of kaffir lime leaves, and drive home.
Even though buying the ingredients for tom yum can be tricky in America, thankfully the actual tom yum cooking process is much quicker and easier than I would have ever dreamed.
Tom yum is the Thai version of chicken noodle soup, and makes you feel all better if you have a cold.  My snifflely nose is less snifflely with every bite, so if you have a cold, make some now, and if you don't, I'm sure someone you know has one, so make it for them and invite them over.
Be warned though! Much of what is in tom yum, you don't eat. It's just to flavor the soup!
At first I didn't like tom yum because I didn't enjoy chomping on woody lemongrass and tough galangal, but eventually I discovered you don't eat those parts and just scoot them out of the way to get to the broth, shrimp, tomatoes, onion and mushrooms.
I got this recipe and revised it a little from a super-legit Thai cookbook my Thai Hubby got me for Christmas: It Rains Fishes by Kasma Loha-Unchit.
Because of her book, lately I've been surprising Dom with random Thai trivia (which he already knows) like how Thai farmers hire monkeys to work in their coconut groves to harvest coconuts, and holy basil helps a woman's body heal after childbirth, which Thai Hubby forgot to tell me four kids later.
It's definitely a good read if you want to learn more about Thai culture and cooking with some authentic recipes thrown in.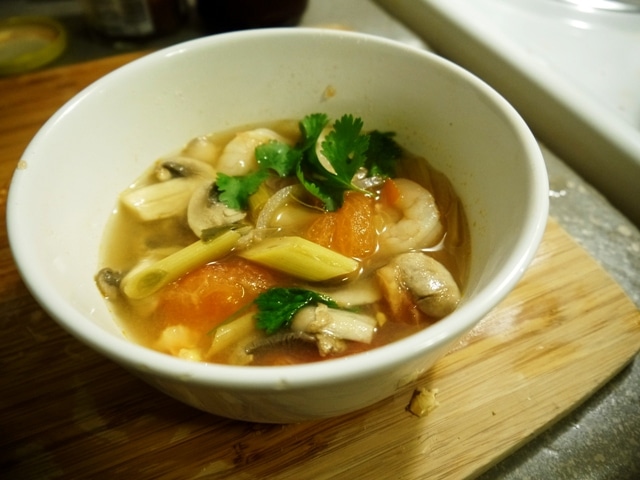 Let me know what you think in the comments, and if you have any questions, I'm here for you!
Print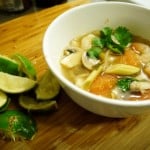 Easy, Yummy Tom Yum
---
Prep Time:

15 minutes

Cook Time:

25 minutes

Total Time:

40 minutes

Yield:

2

-

3

1

x
Description
Need an easy, quick Thai pick-me-up? Try Tom Yum Soup! It's simple to make and full of hot, sour, spicy flavors!
---
Scale
Ingredients
1/2

lb. or so of shrimp (or chicken, or tofu)

3

–

4

stalks of fresh lemon grass

1 quart

of mild soup stock or chicken broth salted with fish sauce

8

thin slices of galanga

4

fresh kaffir lime leaves

5

–

10

fresh thai chilies, depending on heat tolerance (remove stem and smash slightly)

1

small onion thinly sliced

2

–

3

Tbsp. of Thai roasted chili paste

3

–

4

Tbsp. of tamarind paste

1 cup

of your favorite mushrooms thinly sliced

2

small tomatoes cut into wedges
Juice from

1

–

3

limes
a handful of cilantro leaves
---
Instructions
Cut off the bottom tip of the lemon grass stalks, and throw out the loose outer layer.
Cut the stalks into 1-inch sections at a diagonal up to the greener end so you can see the inner core. Smash each piece lightly in your mortar and pestle or with the side of a Chef's knife. This lets the fragrant smell seep into your kitchen (a smell that always reminds me of Fruit Loops).
Place the cut lemongrass and broth in a soup pot. Bring to a boil.
Reduce the heat to low and let it simmer, covered, for 15-20 minutes to let the lemongrass flavors seep into the broth.
After it has simmered, add the galanga, kaffir lime leaves, chilies and onion.
Simmer for a few more minutes and then add the roasted chili paste, tamarind paste and mushrooms.
Heat it all to a boil and then let it simmer a few minutes to get the mushrooms cooked and the flavors mixing.
Stir in the sliced tomato and shrimp.
ALERT! After 20 or 30 seconds of putting in the shrimp, turn off the heat. If you leave the heat on too long after adding the shrimp, the shrimp will overcook. Eww.
Add lime juice to your preference and add the cilantro.
Serve with rice. Enjoy!!
---
Notes
If you don't have Thai chilies, you can use jalapenos or serrano peppers.
If you are using chicken instead of shrimp, add it to the broth when you add your lemongrass.
You can use dried or canned forms of lemongrass, galanga and kaffir lime leaves, but know that it will change the authentic flavor of your soup, but don't worry, it will still be delicious!
If you don't have tamarind paste, I would recommend using more lime instead.