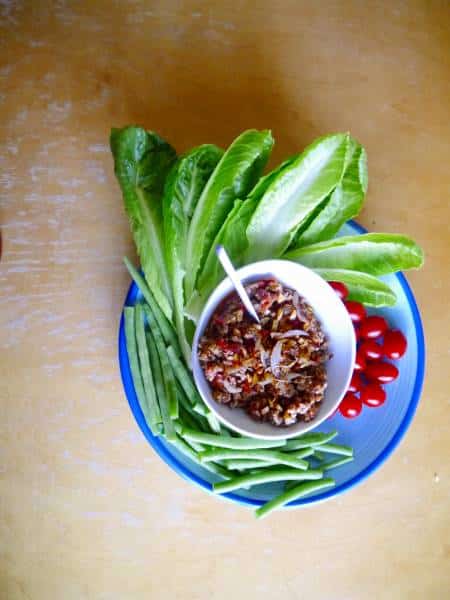 When most people think of Asian lettuce wraps, they imagine eating the Asian Chicken Lettuce Wrap appetizer at P.F. Chang's with the yummy dipping sauce. Of course, that is Chinese and not Thai.
In Thailand, they don't really have Asian lettuce wraps, so if you want to make Thai-Style lettuce wraps, you have to make up your own. You can always put larb in lettuce wraps, which is delightful. But another Thai dish we like to put in lettuce wraps is Nam Prik Ong, a Thai pork and tomato dip.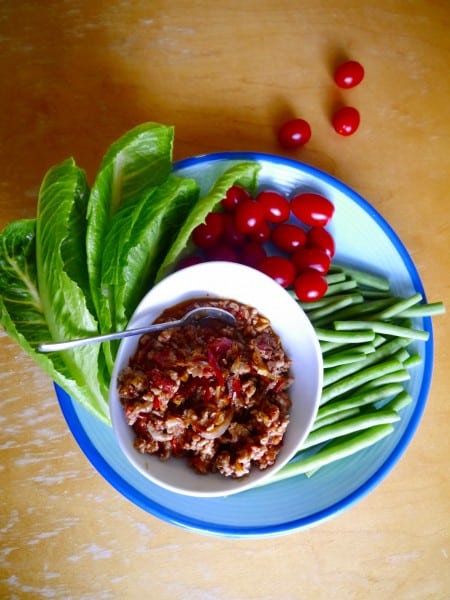 Whenever I think about nam prik ong, it brings me back to Dom's grandma's house in Sukhothai, Dominic's hometown in northern Thailand.
At dinner time, in the living room we would roll out Grandma's worn straw mat on their painted red concrete floor that somehow was always spotless. Then as the smells of fried garlic and shallots wafted in, we would set down a rattling random assortment of colorful plastic plates in a pile, along with well-used forks and spoons.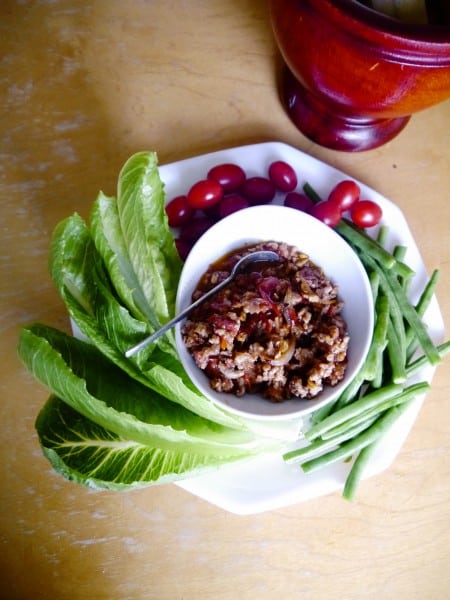 From her "kitchen" outside, which was really just a burner set up on the floor of the back porch with bottles of Thai sauces surrounding it, she would bring out a plate full of fresh cabbage, long beans and fried pork rinds with a small bowl of nam prik ong in the center of it.
Then we would sit around, dipping our veggies in the nam prik ong, savoring its spicy, sweet flavor while watching Grandma's favorite Thai or Korean soap operas as a large fan lazily spun next to us.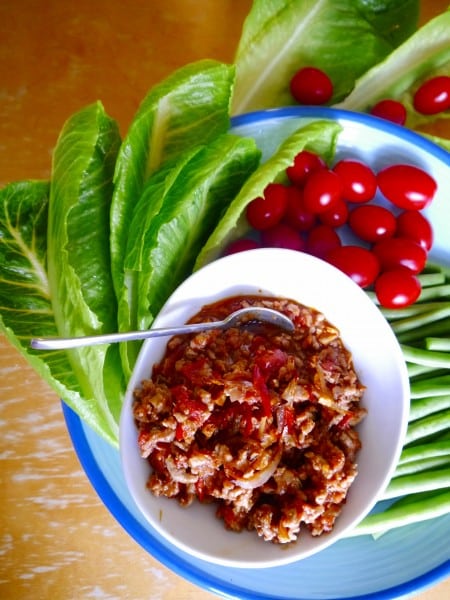 The simple, fresh meal, and relaxing time with her made us forget about the sweat oozing out our pores in her non-A/C house. It was magical.
Nam prik ong is one of Dom's favorite Thai recipes that his grandma makes. Talk about pressure for me! For some reasons we hadn't tried making it until recently, and once we did, our hearts felt a little bit closer to his grandma and like we saw her again briefly after not seeing her for 4.5 years.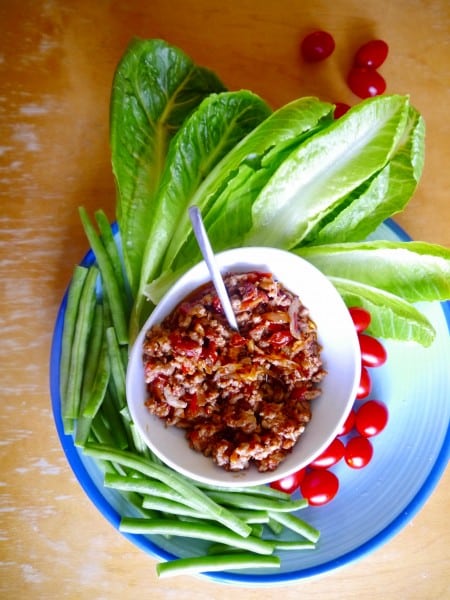 You can eat nam prik ong in lettuce wraps, or use it as a dip for chips, and crackers, but use pork skins if you want to eat it Thai-style! Try it out and let me know your thoughts!
And here is the fun video Dom, and I love about how to make it:
Thai-Style Lettuce Wraps | Nam Prik Ong | น้ำพริกอ่อง
This is our favorite Thai-Style lettuce wrap, Nam Prik Ong, from my Thai grandma's recipe!
Ingredients
3 shallots, diced, divided
12 garlic cloves, smashed and chopped, divided
8-10 dried Thai chilies, depending on spice preference
3 tbsp. cooking oil
1 pound ground pork
2 c. baby tomatoes, quartered
2 tbsp. tamarind paste
1 tbsp. fish sauce, to taste
2 tbsp. palm sugar, to taste
2 tsp. Thai Shrimp Paste(optional)
Instructions
Soak the Thai chilies in warm water for at least 30 minutes to soften them up before their pounding.
Add soaked Thai chilies, half of the shallots and half of the garlic to your mortar and pestle. Pound until smooth. *If you don't have a mortar and pestle, you can use a food processor. It won't have the same authentic flavor, but still be delicious!
Add 3 tbsp. of cooking oil to a wok or large pan.
Add the reserved garlic and shallots to the cold pan. Stir-fry until brown and crisp. Keep stirring it while it fries and once it starts to turn golden, turn off the pan and keep stirring. It can quickly go from brown to burnt if you don't keep your eye on it.
Remove the fried garlic and shallots and place in a small bowl, but keep the garlic and shallot infused oil in the pan.
Now add the pounded chilies, garlic and shallots and stir-fry for a few minutes until fragrant.
Then add ground pork and combine well with chilie mixture.
When the pork has cooked a little, add the tomatoes.
Crush the tomatoes with the back of your spatula to help them combine with the pork mixture.
Stir until pork is cooked through and combined well with the tomatoes.
Then add tamarind, fish sauce, sugar, shrimp paste, fried shallots and garlic, and mix it up. We like ours more sweet and sour with a slight salty taste.
You can serve it with lettuce wraps, cabbage, green beans, pork skins, or if you want to make it more fusion, serve it with chips, crackers or pita bread!
Notes
It's best to use sweet and sour baby tomatoes, but since I can't find those in our grocery store, we just use regular baby tomatoes and add in tamarind paste to make it sour.
Dom's grandma always puts Thai Shrimp Paste
in hers, but if you can't find it, no worries! I still love it without it too.
http://www.thai-foodie.com/thaifood/thai-style-lettuce-wraps-nam-prik-ong-%e0%b8%99%e0%b9%89%e0%b8%b3%e0%b8%9e%e0%b8%a3%e0%b8%b4%e0%b8%81%e0%b8%ad%e0%b9%88%e0%b8%ad%e0%b8%87/