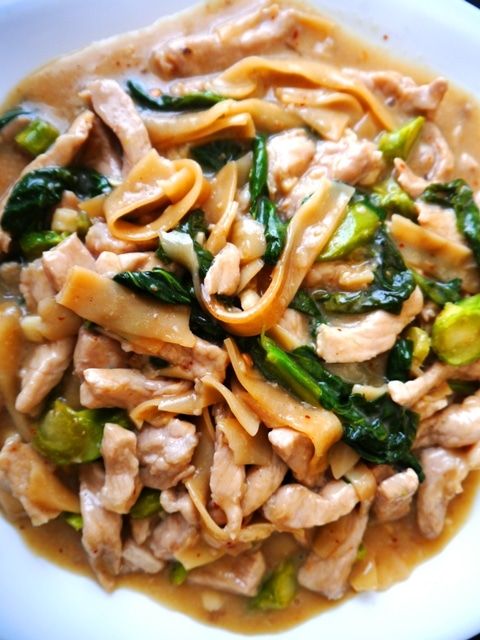 Dominic and I both zoomed back in time yesterday. Our first bite of rad na, aka lad nah, aka wide rice noodles with gravy, pork and Chinese brocolli was our Delorean that took us there.
Dom arrived at a soi, aka side street, in Sukhothai. He had just watched the cook put wide rice noodles in a faded blue plastic bowl and then dip into a huge pot and ladle a luscious gravy of pork and Chinese broccoli over the noodles.
He took the steaming bowl to a metal table, added Thai chili sauce (which is only used in rad nah when in Sukhothai) some sugar and vinegar and smiled.
I went back to the bustling market across the street from the tutoring school where I taught back when my Thai Hubby was just a hot Thai guy that I was dating.
My co-worker and I were standing in front of the rad na vendor in the back of the market. I was mystified as I saw him put the dark rice noodles in a clear plastic bag and somehow magically tie a rubber band across the top so that it was full of air like a balloon.
He did that with even the tiny bags of vinegar and peppers. Then we meandered back to work, got some plastic white bowls from the kitchen, emptied our bags of goodness into them, tore open some chili pepper flakes to sprinkle on top and smiled.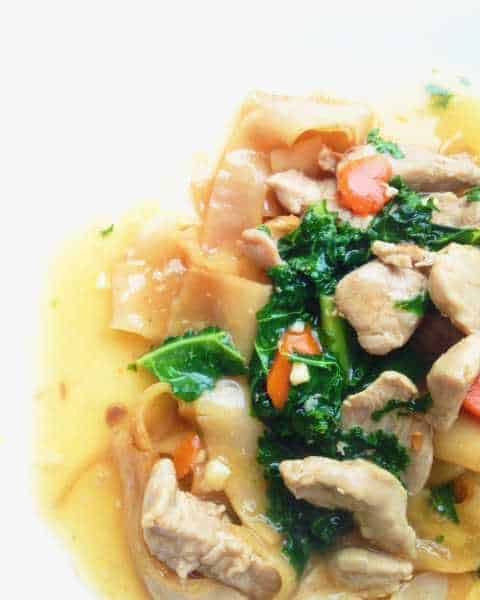 I'm glad that I figured out how to make rad nah that could bring us back in time—because the first time I attempted to make it, instead of smiling after my first bite, I cried out of frustration.
We hadn't eaten rad nah since Thailand, which was four years ago. So I was super stressed the first time I made it, trying so hard to make it taste like I remembered, but I was putting too much pressure on myself. I ended up with a gooey broth with tough, tiny slices of pork. It was sad.
But this time I took it slow, adjusted what I messed up on, and the smiles came.
Lesson learned. Know that if you do mess up making a dish you want to make so well so badly, the next time you make it, it will taste all the better and bring nostalgic tears to your eyes.
And what helped me the most was watching this awesome Thai cooking video, which is where my rad na recipe is adapted from. I like watching Thai cooking videos, but not many are well done, but his one was so cute and helpful. Hope it helps you too!
Print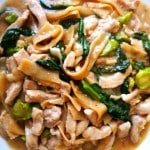 Rad Na Moo Recipe | ราดหน้า
---
Prep Time:

5 hours

Cook Time:

20 minutes

Total Time:

5 hours 20 minutes
Description
If you loved eating rad na or lad na moo in Thailand and want to try it at home, check out our easy rad na moo recipe today!
---
Scale
Ingredients
Pork Marinade
Noodles
3

–

4

serving size of wide rice noodles (usually

half a

package)

2 tbsp

oyster sauce or

2 tsp

. Thai black soy sauce
Broth
1 tbsp

oil

8

garlic cloves, minced

2 tbsp

yellow bean sauce

3

c. pork broth (or chicken if you can't find pork)

2 tbsp

tapioca flour

1 tsp

. water

1/2

pound of fresh chinese broccoli, coarsely chopped

1 tbsp

oyster sauce

1 tbsp

Thai seasoning sauce

1 tbsp

sugar
Vinegar (optional)
Thai chili sauce (optional)
---
Instructions
Mix marinade ingredients together. Add pork and marinate it at least four hours or even overnight.
Soak the rice noodles for at least 30 minutes in cold water.
Warm up a wok or pan and add cooking oil.
Throw in the noodles and add water and sauce slowly until noodles become soft. (The oyster sauce or dark soy sauce is just to give some color and a lil flavor to the noodles so you don't need too much of it.)
Set noodles aside.
Add oil to wok or pan and warm it.
Add garlic and cook until fragrant.
Throw in yellow bean paste, pork broth and pork.
Cook until the pork is not pink.
Mix water and tapioca flour in a bowl and stir it into the broth.
Add in chinese broccoli, the sauces and sugar to taste. Cook until chinese broccoli is tender but still crisp, just a few minutes.
If you like your rad na more gooey and less soupy, add a bit more tapioca flour. If you like it more brothy like Dom, add in more broth.
Feel free to put vinegar, and Thai chili sauce on the table and add to your delight if you want to eat it Sukhothai style like us! Enjoy!
---